How much space do I need to construct a backlit wall/ceiling/desk/bar?
Only 5/16" thick, Infuse™ Flat-Lite™ LED Panels provide an even distribution of light in the tightest of spaces.
Overall assembly depth depends on the translucency of the surface being backlit, amount of available space, necessity of diffusers, and support method.
We find it important to consider the surface in conjunction with the light source so that all hot spots are eliminated. Our design engineers can place the Flat-Lite™ LED panels directly to the back of the surface being illuminated but sometimes they're placed up to 3" behind. If you have limited space or highly translucent surface, GPI has several light diffusion strategies that can help eliminate hot spots and blend the light.
GPI performs physical testing and trials to determine the ideal lighting cavity for each project. Just send surface selection, specifications, samples and drawings and we can begin to develop your custom solution.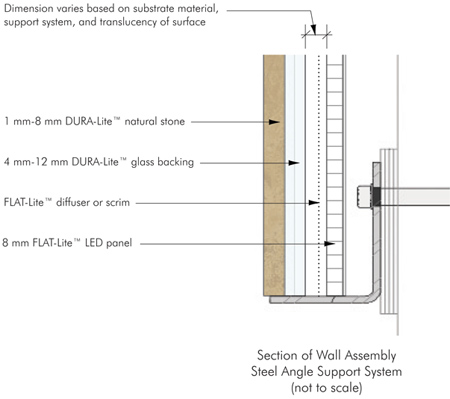 ---
Copyright © 2010-2013 GPI Design/GPI International, All Rights Reserved |
Client File Upload