Thursday Salute to Originals: Anatomical Transformations
Have you ever seen the movie Stepford Wives? If you haven't, here's a brief synopsis (spoiler alert!): Women are turned into remote-controlled robots. The climax scene depicts the lead actress's body sparking and glitching after a major malfunction – wires and robotics are revealed from behind her face in a shocking twist. In looking at French Canadian artist Claude-Olivier Guay's art, we're eerily reminded of the Stepford Wives concept and how what we see on the outside, may be very different from what's found within.
Guay creates anatomical sculptures that transform before your eyes to reveal meticulously wired constructs inside. But the intrigue with his works doesn't just stop there. The wire innards are designed to be further manipulated, morphing into various shapes and creatures.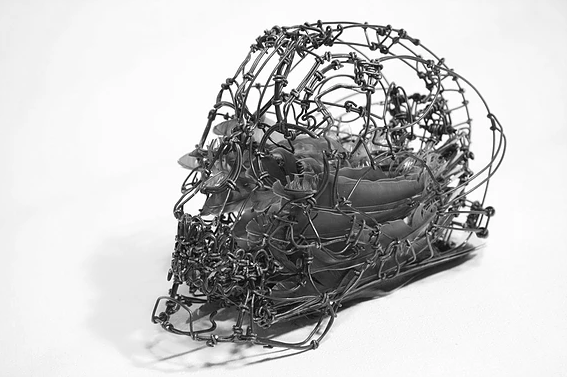 Guay's only tool when creating his wiry forms is a pair of pliers. With his pliers, he is able to bend and twist the framework within each piece, creating these remarkable structures with hidden identities. Occasionally, other items are used in conjunction with the primarily wire forms. For example, in Guay's 2015 work Imago, feathers are incorporated to enhance the transformation. Watch the clip below to really understand the surprising and fluid metamorphosis that occurs from the fleshy exterior to fanned feathers.
These works of art are meant to focus on the human anatomy and illustrate how we grow and change – how we transform – within the body and the mind. In the video below, Guay's work La Taniere begins as a female bust and progressively turns into an intimidating wolf.
This Thursday, we're saluting Claude-Olivier Guay for his anatomically-centered art. Whether you simply appreciate the theoretical message of metamorphosis, or draw inspiration from the technical logistics of construction and form central to the function of each piece, its clear Guay's raw artistic talent and vision for surprise can rival even the most shocking movie plot twists!
Sources: Claude Olivier-Guay, Best of Viral