Integrating translucent surfaces, structure, lighting, and controls. We are one diverse team, with targeted knowledge to provide you with comprehensive solutions through every step of the design-build process.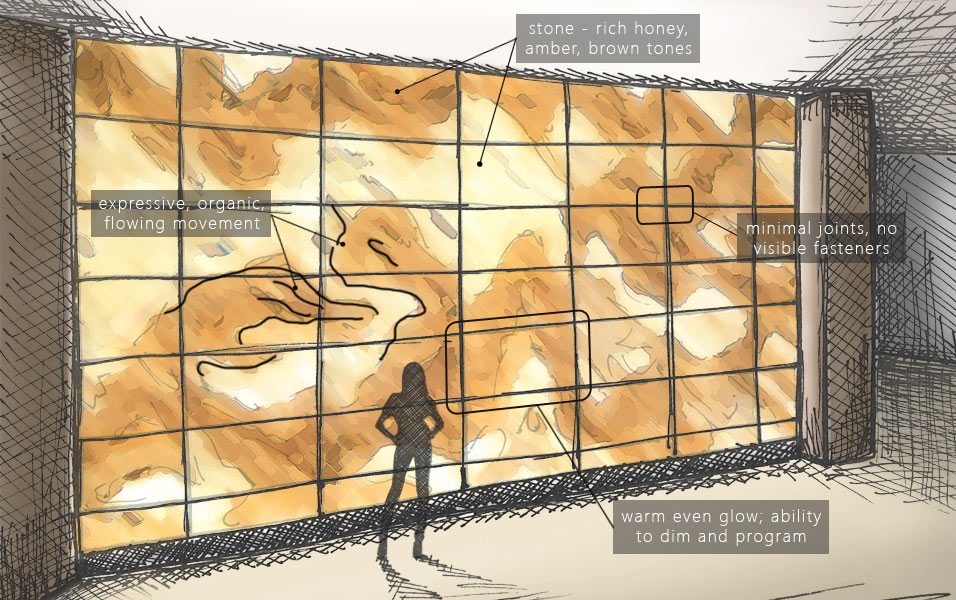 Step 1 of 5
Clarify Your Aesthetic Expectations
Let's work together to closely define your design intent and its challenges as we begin deriving a practical built solution.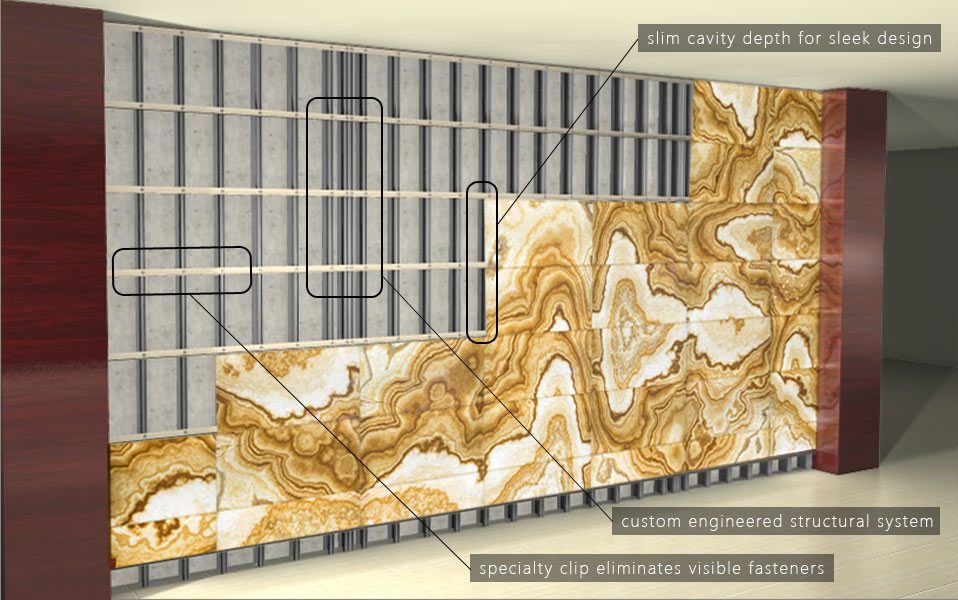 Step 2 of 5
Engineer the Structural Details
Creating an effective structural system and lighting cavity is the foundation for success of your feature. These elements are the framework that will best showcase your translucent surface.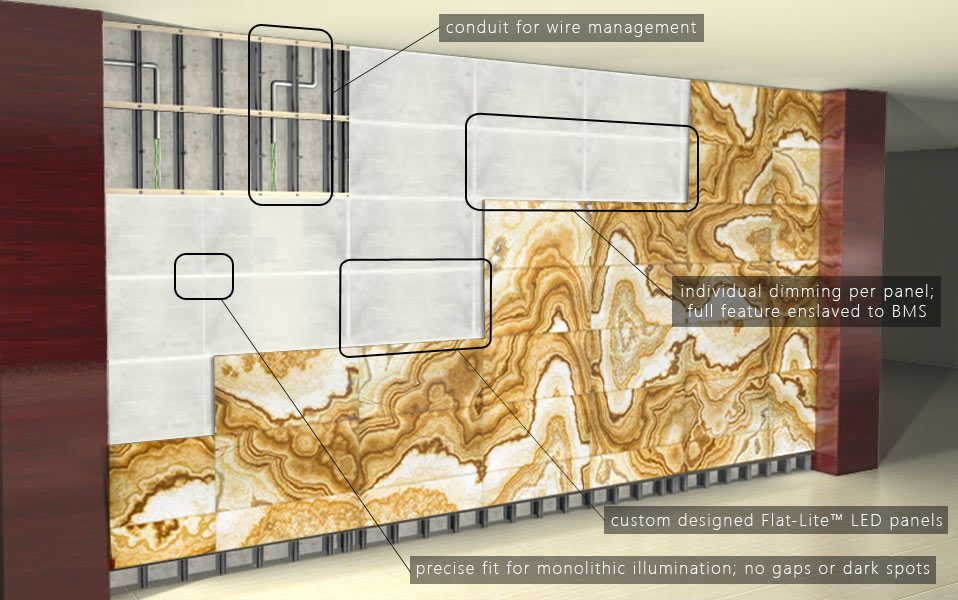 Step 3 of 5
Implement the Lighting Strategy
Illumination will bring your vision to life, but simply placing fixtures behind a translucent surface may not meet the aesthetic demands a backlit design requires. We strategically tailor the entire lighting environment based on the findings that our mock-ups and testing uncover.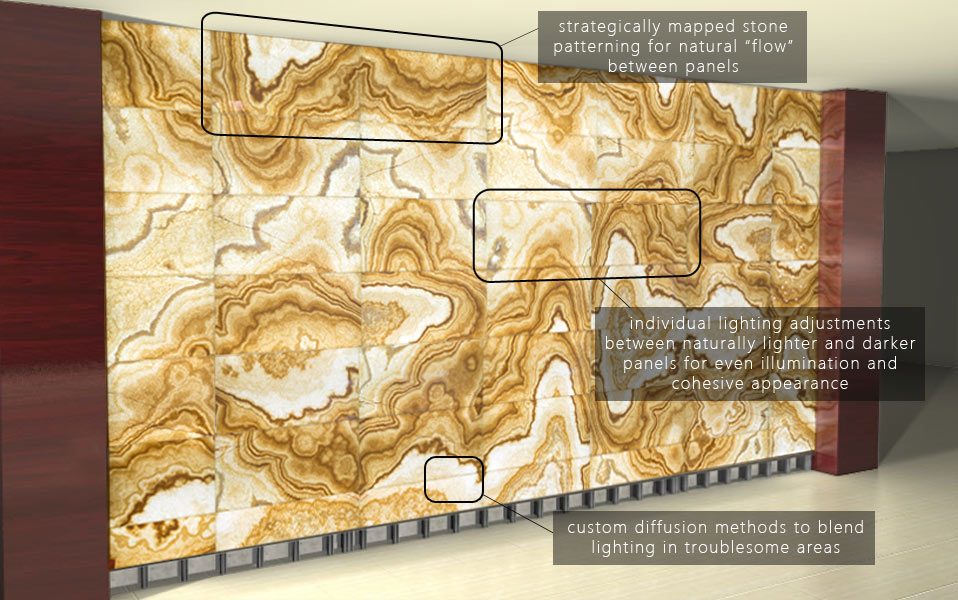 Step 4 of 5
Apply the Surface
The surface ("the lens") serves as the face of your feature, defining and enhancing your design with a distinct personality of its own. Achieving a harmonious surface requires expert coordination and customization at all phases of production.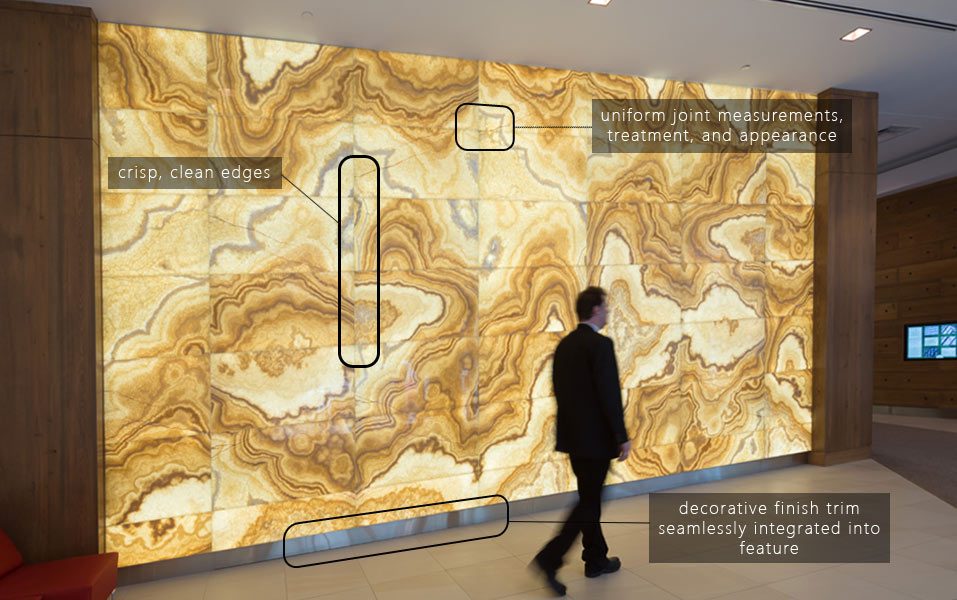 Step 5 of 5
Finishing Touches
Creating art requires meticulous attention to detail and skilled execution. These final elements unify your backlit feature as the unique statement envisioned from the concept stage.
The word "integration" encapsulates everything for which we stand. We handle everything in the creation of your backlit feature – material supply, engineering, fabrication, and installation.
What does integration mean in practice? We ensure that the initial rendering of the project is as beautiful as the final installation without a series of compromises along the way.
Full responsibility for the details from start to finish
Intense relationship study between surface, structure, and lighting
Adherence to the design concept through each stage
Early recognition of potential challenges or problems
Coordination of shop drawings, submittals, and revisions
Ensuring quality control through detailing and fabrication
Full turnkey installation
Fluid coordination between specialty systems
Striking signature pieces with which owners and designers are proud to adorn their spaces
Watch Our Process